We can never underestimate the power of gratitude to transform tough things into tolerable. Two forces for good —gratitude and kindness — are free and easy to apply.
Perhaps that's the problem.
We can tend to discount things that are too simple as being ineffective. Yet isn't that what many of us crave more of in this era of rapid change and complexity?
The simplicity of gratitude can expand the heart, elevate the mind and heal the wounded soul.
We can never underestimate the power of gratitude to transform tough things into tolerable.
~LeAura Alderson, writer, editor, creator iCreateDaily.com®
January, 1995, Poor Indian Village Outside of Delhi
Six of us walked along the rutted dirt road lined by hovels of stucco homes without glass or screens on the windows, though most had shutters to close up at night.
We were in training and getting acclimated to live in poor village conditions before being assigned our service destination. Two adults—my husband, Coleman and myself—and four teens aged 12-19, for five weeks of a "third world" service experience.
In front of us a slender young mother in the customary and ubiquitous sari walked gracefully, carrying a baby in one arm while a toddler walked on her other side, grasping her mother's hand. The toddler was wearing a shirt, but no bottoms. Diapers would be a luxury available only to the middle and upper class.
As the young mother approached a puddle of brown water in a huge pothole in the middle of the dusty road, she squatted down and scooped water from the puddle to splash on her toddler's bottom. Then she stood up and continued on her way, elegant in her posture, demeanor and colorful sari, despite her circumstances.
She did what she had to do, using what was available. Dirty water from the street for washing her baby's bottom was better than none at all.
Positivity Over Negativity
We've all made it through tough times before. Passing through the storms of life is a part of the human experience. Our struggles teach us that no matter how difficult and dire things may seem, no storm lasts forever.
Whatever struggle may be before us now, or in the future, we shall once again emerge into a new day. Every storm is followed by rainbows and sunshine, though sometimes we need to search for them.
In order to embrace what is, we must let go of what isn't, and discover the gifts in the present. Let us focus on the gains and not the gaps, on gratitude for the MANY good things that remain each day.
Practice over perfection. Progress over passivity. Positivity over negativity. Wins.
~LeAura Alderson, writer, editor, creator iCreateDaily.com®
Not All Roses And Sunshine
In our family, over the years, and in current times, we've had MANY setbacks and losses… too many "Madoffs", Ponzis and fake gurus, mistaken investments (right thing—wrong time kind of thing).
We've had unthinkable and unbearable family happenings, and heart wrenching rifts.
Roses come with thorns.
Yet the thorns do not define the rose bush, nor alter the beauty of the rose. The rose glows in spite of the thorns, and so too must we.
The circumstances of our lives do not define us… unless we let them.
~LeAura Alderson, writer, editor, creator iCreateDaily.com®
I Am Not My Pain
During challenging times, it's so easy to spiral into fear, worry and doubt, anxiety and anguish, hopelessness and loss.
However, that is not who we are. The circumstances of our lives do not define us… unless we let them.
Instead, these things have resulted in greater empathy and unplanned growth in new directions that have led to good things. This story is still being written, and we are the authors.
It is no accident that every story is a hero's journey. Including your own. You are the hero of your story, and this is your journey.
These are passing storms, and yes, some storms leave their mark and wreak havoc and damage. When that happens we must vent and mourn. Shouting at the storm and crying over the wreckage helps, and screaming at God or the universe helps, but only at first.
Then it's time to take action on the next best thing we can do.
The circumstances of our lives do not define us… unless we let them.
~LeAura Alderson, writer, editor, creator iCreateDaily.com®
The Pain of Birth
Birth is the first hint of things to come on this magnificent blue planet. Our very first lesson is to push through the hard stuff… the constrictions, the pain, the contractions.
"Push and breathe… rejoice and cry… for every struggle births something new, if we will but focus on the birth and not the pain… on the life and not the strife."
~LeAura Alderson, cofounder iCreateDaily®
You Are Not Your Circumstance
No matter our personal circumstances, they do not define us. We are not our circumstances. We can always rise above and into our best possible selves.
There is always something for which to be grateful.
Focus on the Good and You'll See More of That
It's just that it's too easy to see what's missing… what's wrong… what's hard, and to focus on that. Instead, remember to focus on the good and the gains, and truly, those things will grow in your life.
An attitude of gratitude can transform state and fate.
~LeAura Alderson, iCreateDaily.com®
Focus on the Gains not the Gaps
We first heard this 'focus on the gains' concept from Dan Sullivan, cofounder of Strategic Coach. This is also such a simple thing, that is extraordinarily effective. To focus on the gains…on what's good in your life is to automatically invoke gratitude.
Gratitude works, it's powerful and it's free.
"Gratitude is the light that opens the blossom of the heart from which the seeds of kindness grow."
~LeAura Alderson, cofounder-iCreateDaily®
A Gratitude List
A gratitude jar or list can be the thread that reconnects you with greater perspective and purpose when you're down. Make it when you're up and it will be there for when you're down and it's hard to muster gratitude.
Write Your Gratitude List
Whenever you're feeling especially upbeat and positive and in love with life, make a gratitude list of anything and everything you can think of for which to be grateful. From toothpaste and showers to warm beds in winter… loved ones and furry friends… sunrises and songbirds. Everything.
Now you have your go-to list for when you're feeling down and can't seem to muster anything for which to feel grateful. Trying to remember gratitudes when you're overwhelmed with stress and anxiety, fear or pain can be like trying to see the sun in a storm. You're under the weather and sun seems as far away and hard to imagine as snow in July.
Create a Gratitude Jar
If you have time, cut these gratitudes into little "fortune cookie" style strips, folded them, and place them in a jar. Then on those days when you need a kick in the gratitude you can pull one or more randomly from the jar to help you change your state.
You can even buy gratitude jars to jumpstart your collection.
Perspectives on Gratitude
You know the saying, that there's always someone worse off than you. And while of course we do not wish worse on anyone, it helps to keep our struggles into perspective. For me there are a number of things that help pull me out of the doldrums. One, is to tune into inspiring and elevating content, such as you'll find here.
The other is to tune into or remember stories of those who've lived through and thrived in spite of great and even unthinkable struggles.
PERSPECTIVES ON GRATITUDE RESOURCES
Articles
Books
Movies
Podcast Interviews
Making the Impossible Possible – Ed Mylett with Nick Vujicic
"I'm not comparing my pain to you, but I have no arms and legs. And I had a choice, to either be thankful for what I had, do my best and take one day at a time, or give up."
~Nick Vujicic, born without limbs, author, b.12/4/1982

SOURCE: Nick Vujicic with Ed Mylett
Hal Elrod with Tom Bilyeu on Impact Theory

— Inspiring Thoughts from a Millennial Thought Leader

We are grateful to the many inspiring thought leaders in the world today who are putting this message out there in various ways. One such is a millennial with the most powerful life story and message worth tuning into over and again.

For a profound life perspective, please do yourself a favor and watch or listen to this entire interview below. You will be glad you did.

This is a do-not-miss conversation. In fact, it's to bookmark and revisit whenever you need a pick-me-up.
You can find Hal Elrod's website here.
RELATED: Lots more on gratitude
If we magnified blessings as much as we magnify disappointments, we would all be much happier.
~John Wooden, Basketball player & head coach-University of California
As with all commandments, gratitude is a description of a successful mode of living. The thankful heart opens our eyes to a multitude of blessings that continually surround us.
~James E. Faust, author, religious leader, lawyer, 1920-2007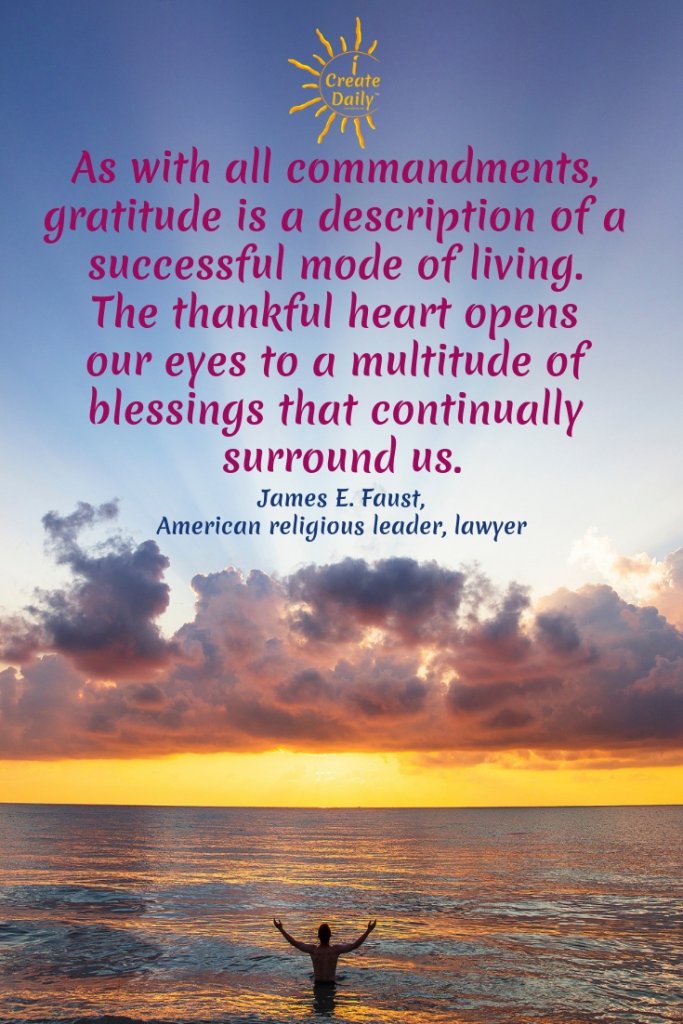 Hello! I'm LeAura, a philosopher, generalist, autodidactic, personal development advocate, entrepreneur, writer, editor, author, ideator, media publisher, and podcaster, passionate about helping others achieve their best possible life! We're a media publishing company run by our small family of entrepreneurs, writers, and creators around topics we enjoy, such as gardening, health and fitness, creativity and pets, with more to come.
While my greatest teacher is Life… my formal training includes certifications in mediation, fitness, and strategic intervention coaching, including marriage and family. Today, the synergy of creating websites, articles and podcasts, brings together all my favorite things: family, learning, growth, creating, connecting and contributing. To share these with you is a privilege, that serves my lifelong aspiration to help others.
My personal areas of creativity are in writing, masterminding, ideation, synthesis and bringing ideas to life through business and entrepreneurship.
Want to submit your photos, videos and/or article content for publication? We love to consider your contribution for publication!
creators@icreatedaily.com